Is Sports Betting Legal In Florida?
It's not something you really have to tell residents of the Sunshine State, but there is no shortage of excitement or legal sports betting in Florida. Between all the great wildlife and theme parks, it's easy to forget that in Florida lives an exciting and passionate sports culture. Whether cheering on the Florida Marlins or the Jacksonville Jaguars, there's a lot to get passionate about when it comes to the high standard of competitiveness in both professional and collegiate sports throughout the state. It could also lead to several great betting opportunities for those interested in sports betting. Unfortunately, most people think that they will get in trouble for betting on sports in Florida. This is far from the truth when you're using the proper sports wagering channels.
The biggest message to take away is that in Florida it is NOT against the law to make bets or wagers on any sports events when using an online offshore sportsbook. There is a lot of confusion on the subject because according to the letter of the law, it is in fact prohibited to facilitate or promote any sports wagers. This means those who would stand to turn a profit based on other people's wagers (Unlicensed bookmakers, advertisers, etc.) could be punished by a state or federal court, but the actual player placing sports bets would be completely safe from harm.
Furthermore, because Florida sports betting passed through the state legislature via FL SB 2-A the Sunshine State will soon host it's own regulated platforms. That means the total legal Florida sports betting options will include land-based casinos and race tracks. Those venues along with in-state online sportsbooks are slated to launch in October of 2021.
Land-Based Sports Betting in Florida:
The good news is that land-based sports betting in Florida is coming, but it will be limited to just Seminole-owned casinos and horse racing/OTB facilities. Those venues aren't slated to open until October. The only in-state option that comes close to land-based betting now is casino cruises which offer sportsbooks once you get out to international waters. However, this is also another expansive trip that limits the amount of Floridians that can bet on sports. If any FL sports bettors are desperate to go to a land-based sportsbook, they could travel to ones in Mississippi. However, online sports betting provides a more cost effective way to bet on sports.
Legal Online Sports Betting in Florida:
As part of the bill passed by the state legislature, statewide online sports betting will exist, but the rules around it are kind of muddy. To add to that, the federal government may deny this part of the compact due to the possibility of it interfering with current FL gambling laws. Luckily, there are options to bet on sports in FL right now. Online sportsbooks that accept Florida residents can provide not only a legal, legitimate, and perfectly safe place to play betting lines and propositions, but their wide selection of events and odds rival almost any other land-based sportsbook, even those in Las Vegas.
By holding their operations overseas, these online sites are able to work around the state-imposed laws that interfere with the facilitation of sports betting, and Florida residents can rest assured that the longevity of established online sportsbooks along with their rave customer reviews mean that these enterprises have a great track record of fair dealings with their customers money, and do a good job of providing their clients with great customer service.
Bovada Sportsbook - The Best Legal Choice To Makes Sports Bets In Florida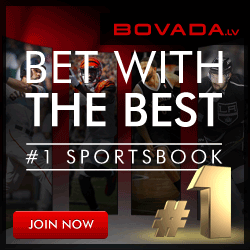 If you live in Florida and are desperate for a place to start in your hunt for an online sportsbook, you could both begin and end your search with Bovada. While striving for years to provide their clients with the best service possible, the Bovada name has become synonymous with legitimacy and quality. Media giants like CBS sports frequently cite Bovada whenever noting betting lines for games, and it's a good bet that Bovada didn't reach that level of trust and acclaim by being anything less than pristine in all their dealings. In addition to being the prime name in legitimacy in online sportsbooks, Bovada has earned their stripes in customer service. When you initially log in to Bovada and make your first deposit, they will match 50% of it in free money for you to place bets with. That's up to $250 of free money just for signing up.
Top Florida Sports Betting Sites
Rank
Online Sportsbooks
Bonuses Offered
Rating
US Players?
Play Now!





What's The Bottom Line? Will I Get In Trouble For Betting On Sports?
For the longest time, many Florida residents thought it would only be possible by flying to Las Vegas in order to earn a couple extra bucks betting on sports. That assumption has turned out to be wrong as it is plain to see there are in fact several great options for placing sports bets in Florida, whether you think the Tampa Bay Buccaneers will win the NFC South or the Florida Gators will make a bid for the national championship, Florida residents have the ability to place whatever bets they'd like.